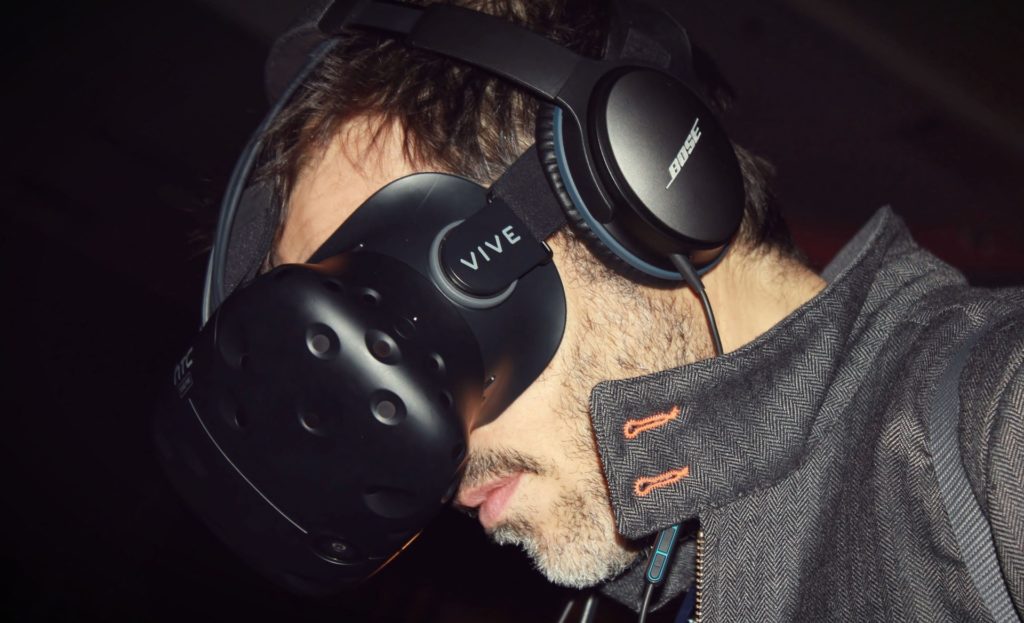 Best VR Headsets under 50: In this article, we show you the 3 best VR headsets under 50. Of course, for this price you cannot expect high quality vr headsets. However, it's good for a start and enough to give you an entry experience into the world of virtual reality.
DESTEK V4 VR Headset
The DESTEK V4 VR Headset is one of the most popular choices at the moment. It has over 300 customer reviews and 200 answered questions on Amazon.
If you are not in the 62 IPD range of the lenses, you will have to use the Sites in VR app to create a custom profile or you will feel cross-eyes.
Once that was set, it is a joy to use. According to the manufacturer – who is awesome in terms of support – you can solve the fogging issue using a solution of 10 parts water and 1 part dish soap, apply with the microfabric clothe and let dry to create an anti-fogging coating.
Advantages
High picture quality
Well built for regular use
Anti-blue light filter for better image quality
Light weight
Works with iPhone 7 Plus
Disadvantages
Lens fogging is a royal pain
The headset lacks an alignment guide to make sure your phone is centered correctly
Destek v4 isn't spectacle friendly
DESTEK V4 VR Headset, 103 FOV, Eye Protected HD Virtual Reality Headset w/Touch Button/Trigger for iPhone Xs X 8 7 6/Plus, Samsung s9 s8 s6/Edge Note 9 8, Smartphones w/ 4.5-6.0in Screen
Eye Protected Anti-blue Light HD Lenses - Eye-protected lenses with unparalleled clarity make VR movies a visual experience comparable to world-renowned IMAX. DESTEK V4 will always make sure you have the best seat in your private theatre wherever you really are.
More Gaming fun with Touch Button Press the button, take on hordes of zombies, aliens or any other foe you want to vanquish to achieve your mission; Target...shoot...collect bonuses to win the Frisbee game. The Touch Button brings more fun and versatility in your VR games.
Comfortable Wearing & Easily Adjustable - The face padding made of soft leather makes your skin feel comfortable and allows you to view longer without irritation. The head strap has upward 9 degrees of adjustment to prevent the strap from touching your ears while relieving pressure on your head and nose. The object/pupil distance can be adjusted separately to get clearest view without your own glasses (even for consumers with myopia under 600, hyperopia under 300 or astigmatic under 100).
Wide Compatibility - Share one DESTEK V4 with the whole family! It supports smartphones with 4.5-6 inches screen, such as iPhone X 8 7 plus/6s/6/6 plus, Samsung s8/s8 Plus/s7/s7 Edge/s6/s6 Edge Note8/5/4/3, LG g6 g5 g4 g3 v20, and Daydream phones like Google Pixel/Pixel XL/Pixel 2/Pixel 2 XL, Samsung s8/s8 plus, Moto Z/Z Force, Huawei Mate 9 Pro, etc.
Last update on 2023-07-23 / Affiliate links / Images from Amazon Product Advertising API
BNEXT VR Headset for iPhone & Android
The BNEXT VR Headset for iPhone & Android is also a good choice for a VR headset. It is not as popular as the DESTEK one but it also is worth a consideration.
Advantages
Adjustable straps
Tool to make sure phone is centered
Works with most phones (iPhone 7, Galaxy s8)
FD and OD adjustments
Disadvantages
Phone needs to be out of the case when using
Doesn't have built in headphones, but there is space to put headphones in
Bnext VR Headset Compatible with iPhone & Android Phone - VR Headsets - Universal Virtual Reality Goggles for Kids and Adults - Cell Phone VR Headsets - Soft & Comfortable New 3D VR Glasses (Blue)
PERFECT GIFT FOR KIDS & ADULTS - This premium VR headset is the perfect present for father's day, Halloween, Easter, Christmas, and other occasions.
VR SMARTPHONE COMPATIBILITY - Bnext's VR headsets are compatible with smartphones with a gyro sensor (almost all models) and with a 4" x 6.3 screen. VR goggles are compatible with models X, XR, XS, 8, 8 plus, 9, 9 plus, 11, 11 pro, 12 mini, 12 pro, SE, etc. This is also compatible with Samsung Android Galaxy Note 20, S20, OnePlus, Box VR, Google Pixel, etc. Headset can also support drones that require a phone VR headset.
ADVANCED VR GAMING TECHNOLOGY - This VR headset offers FD and OD adjustments (wide field of vision) to expand the viewing angle and perfectly match focal distance and unilateral myopic alignment for reduced distortion to ensure an optimal viewing experience.
COMFORTABLE, EXTENDED WEAR DESIGN - This VR headset comes with a fully adjustable head strap, eyesight protection system, and a soft nose piece to reduce pressure and ensure a comfortable experience.
EXCLUSIVE VR CONTENT & ONLINE SUPPORT - The VR headset (viewer) is delivered with our special free VR content list of VR games & VR experiences. It is compatible with google cardboard apps that don't require a button and many other VR apps & adventures that can be found on the application stores.
Last update on 2023-07-22 / Affiliate links / Images from Amazon Product Advertising API
Canbor VR Headset with Controller Remote
Advantages
Especially with the remote control and adjustable lenses
Room for glasses
The control felt good. No loose rattling buttons. Decent thumb joystick.
Disadvantages
Feels cheaper than the DESTEK
Face cushion is particularly low quality, though not uncomfortable
Last update on 2023-07-22 / Affiliate links / Images from Amazon Product Advertising API