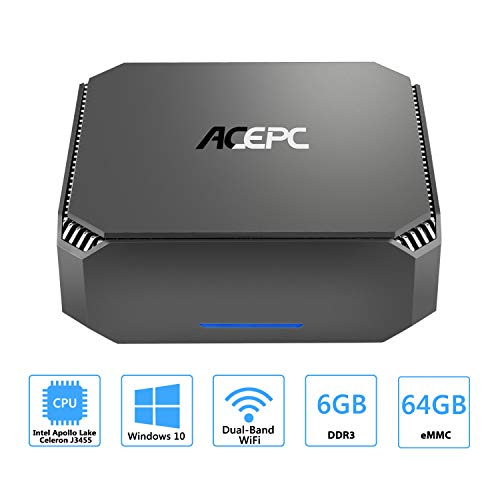 Best PCs under 300: For the casual computer user a PC under 300 totally makes sense. Nowadays, there are great options to choose from. Basically, you can choose between a mini PC with lower but good enough performance or you can choose a refurbished normal PC with great performance even for gaming.
So it really depends on your preferences. There is the W5 Pro Mini PC Intel Atom Z8350 that looks like a bigger USB Stick. This is your whole computer. The performance is enough for most people. There is also the Dell Optiplex 9020 SFF Computer Desktop PC that comes with a keyboard and a mouse. This one has an Intel i5 included and incredible also 16 GB Ram for that price. Therefore, with Dell, you can even play some computer games. For serious gaming, you should buy a decent GPU and replace it, though. (Best PCs under 300)
ACEPC T8 Fanless Mini PC
Advantages
Solid build: It has a sturdy enough plastic shell, which should be more than enough to protect the insides from damage under normal use.
Portable: The entire PC is roughly the size of a piece of thick-sliced bread, so you should have no problems finding room for it in your travel bag. If you want, you would even be able to carry it in the back pocket of your jeans. It is even really light in weight, so it wouldn't weigh down anymore than a full wallet.
Comes with every plug necessary to properly connect devices. A USB 2.0 and a USB 3.0 port on the side, a microSD slot on the same side as well (all of which can be used to either transfer files or add additional space to the 32GBs that comes pre-installed), a microUSB port on the back, as well as an audio jack and an ethernet port.
Very quiet. No fan means no noise and it doesn't even get hot at all.
Can do a lot. Yes, it is limited in what it can do, which is to be expected considering it is a $120 mini PC. If you expect to be able to play top quality video games, then this isn't the product, nor the price range for you. That being said, according to canyourunit, the GPU is able to meet the minimum requirements of 30% of the top 7,000 PC games and the recommended requirements of 9% of the top 7,000 PC games, which is better than I would have expected. On top of that, it can easily do all of the basics, such as surfing the web, watching videos, checking email, and doing schoolwork.
Disadvantages
This is not Wifi ac compatible, but you can buy an external ac adapter and just plug it in via the USB port, or you can just use a wired connection via LAN. One side note, if you connect it to a TV, it is likely that some of the edges will be cropped out. This can be easily fixed by turning off overscan in your television settings. If there is no overscan option on your TV, then you can adjust the screen on the PC, via the Intel HD Graphics Control Panel after you update it to the latest version.
Last update on 2020-09-26 / Affiliate links / Images from Amazon Product Advertising API
W5 Pro Mini PC Intel Atom Z8350
Advantages
It's a pretty convenient (and cheap) way of streaming Xbox in another room of your house without buying a second expensive PC
Very satisfying performance.
Extremely small
Comes with Windows
Does not overheat even after using for 8 hours straight
Disadvantages
Some latency here and there
Good price for the performance
Sale
PC Stick Intel Atom Z8350 Windows 10 Pro Mini Computer 4GB DDR3 64GB eMMC Support 4K HD,2.4G/5G Dual Band WiFi AC,BT 4.2
The 'intel inside' label printed on pc stick indicates that the product's processor is intel Atom Z8350 processor. The product's Brand is Terryza.
Quad-core Intel X5-Z8350 Processor with a base frequency of 1.44 GHz and up to 1.92 GHz in burst mode
Windows 10 64Bit, 4GB DDR,64GB eMMC,Support Micro SD card up to 128GB, support Auto-on after power failure,simply get into BIOS interface by pressing "ESC" key when boot this mini pc, choose "Boot" and "Enable Automatic Power On".
Dual Band Wi-Fi 802.11 ac + Bluetooth 4.2. Stronger and more stable Wifi wireless signal,make everything like online homework, class work, word processing,internet surfering , online shopping,streaming and video more smoother. BT 4.2 support connect device and respond to running instructions fasterly.
4K HD video playback wi/ Intel HD graphics.Can play 4K HD streaming and video bring you more visual feast. Two USB ports (one 2.0 and one 3.0) USB 3.0 reading speed up to 100M/s.
Last update on 2020-09-26 / Affiliate links / Images from Amazon Product Advertising API
HP 8300 Elite Small Form Factor Desktop Computer
Advantages
i5 CPU in this machine is still plenty fast
8GB of RAM is also nice especially this cheap
Even gaming is possible
Windows license included
Disadvantages
Pretty old hard drive. Better replace that with a cheap SSD
This is a refurbished version, therefore cheaper but basically second-hand
HP 8300 Elite Small Form Factor Desktop Computer, Intel Core i5-3470 3.2GHz Quad-Core, 8GB RAM, 500GB SATA, Windows 10 Pro 64-Bit, USB 3.0, Display Port (Renewed)
This refurbished product is tested and certified to look and work like new. The refurbishing process includes functionality testing, basic cleaning, inspection, and repackaging. The product ships with all relevant accessories, and may arrive in a generic box
Last update on 2020-09-26 / Affiliate links / Images from Amazon Product Advertising API
ACEPC AK2 Mini PC Intel Celeron J3455
Advantages
Intel Celeron J3455 – Quad Core (4 cores)
Ability to add 2TB Internal Hard drive storage.
4GB RAM, 64GB Flash Storage.
Only uses 15 Watts or less when idle.
Can be use as NAS.
I/O Specifications: Designed with 2 x USB 2.0 ports,2 x USB 3.0 ports ,1 x Gigabit Ethernet port,1 x Micro SD Card port,2 x HDMI port support Dual Display.
Can even play 4K videos due to the Intel Celeron
Disadvantages
Could be a little bit cheaper
Mini PC,Intel Celeron J3455 Windows 10 Pro Mini Computer, 6GB DDR3 120GB SSD HD Graphics 4K Dual Output Gigabit Ethernet Dual Band Wi-Fi Bluetooth 4.2
Remarkable Performance and SpeedAK2 Mini PC is pre-installed with Windows 10 Pro Edition(64bit) OS, Quad-Core Intel Celeron J3455 Processor.It's base operating frequency 1.5 GHz/s rising to a 2.3 GHz in burst mode.6GB RAM is super fast in desktop software editing, web browsing and movie watching.Supports Auto Power On, Wake On Lan, PXE Boot etc.
Expandable StorageThis mini computer is equipped with 6GB DDR3 and 120GB mSATA SSD,you can add a 2.5 Inch sata SSD(up to 2TB) to the internal expansion bay or a Micro SD Card supporting up to 128GB or an external disk via USB to expand the storage easily.
Dual HDMI 4K DisplayThis PC supports 4K HD videos with dual HDMI outputs, ideal for visually home entertainment, HTPC, perfect for home office, light games, digital security and surveillance, digital signage, media center, conference room etc.
Multiple Connections OptionsIt has all the ports you need for all the peripherals you need including 1x Gigabit Ethernet port, 2x USB 3.0, 2x USB 2.0, 1x audio output. The AK2 also gives you multiple connection with dual-band WiFi (2.4 + 5 Ghz) and Bluetooth 4.2.
Package & Warranty 1x ACEPC AK2 Mini PC; 1x HDMI cable; 1x Power adapter; 1x User Manual. We offers lifetime technical support and 12-month satisfaction service, please feel free to contact ACEPC customer service if any issues happened.
Last update on 2020-09-26 / Affiliate links / Images from Amazon Product Advertising API
Dell Optiplex 9020 SFF Computer Desktop PC
Advantages
Comes with cheap monitor options you can choose from
Good performance due to Intel i5 and 16 GB RAM
Comes with mouse and keyboard
Affordable and very sufficient
Disadvantages
GPU could be better
This is a refurbished version, therefore it is basically second-hand
Sale
Dell Optiplex 9020 SFF Computer Desktop PC, Intel Core i5 Processor, 16 GB Ram, 2 TB Hard Drive, WiFi, Bluetooth 4.0, DVD-RW 1 inch LCD Monitor, Windows 10 Pro (Renewed)
Specification: Powered By Intel's Core i5 3.2GHz High Performance Processor, 16 GB Ram & 2 TB Hard Drive Space.
Intel HD 4600 Integrated Graphics, Wireless WIFI & Bluetooth 4.0 Adapters, 4 x USB 3.0, 6 x USB 2.0, VGA, DisplayPort, DVD-RW, RJ-45.
Get Connected: 19" LCD Monitor (Brands may vary), USB WiFi, USB Bluetooth, New USB Keyboard & Mouse.
The Power of Windows: As Microsoft's latest and best OS to date, Windows 10 Professional - 64 Bit will maximize the power and utility of your new machine.
Last update on 2020-09-26 / Affiliate links / Images from Amazon Product Advertising API