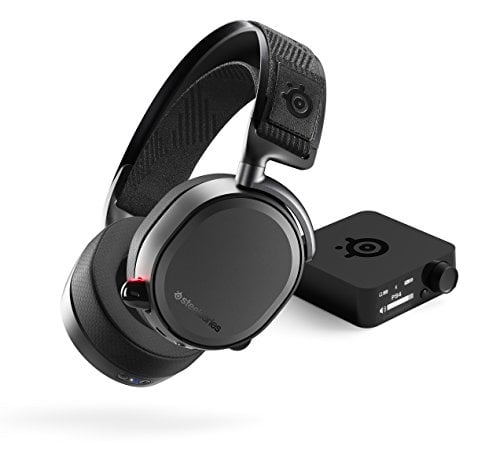 Best headset for ps4 under 100 : When it comes to PS4 gaming a headset makes sense when you really want to enjoy gaming. Therefore sooner or later, you will come to the question which headset for PS4 gaming is the best. As most people have, they have a certain budget. In this article, we show you the top 3 gaming headsets under 100.
1. Best choice: The HyperX Cloud II Gaming Headset
The HyperX Cloud II comes in two colors: red and grey and has a detachable microphone. It's interesting that it also TeamSpeak Certified – Voice Chat Optimized.
Compatible with PC, Xbox One, Xbox One S, PS4 , PS4 Pro, Mac, Mobile and VR
Advantages
Sound quality for music playback is good. A little too much bass, but overall good

Sound quality for WebEx is excellent. Voices are clear

Comfortable to wear for long periods of time. They come with two type of ear pads
They block out noise. When playing music, they totally block the outside world.
Look cool
Disadvantages
The wire easily gets twisted
Cable is short. The cable for the 3.5mm connector is about 3ft long.
They come with a USB cable with a built in sound card. This is terrible. The sound quality is good, however, the mic is useless when using this cable. Mic is ok when you plug in using the 3.5mm connector.
Sale
HyperX Cloud II - Gaming Headset, 7.1 Surround Sound, Memory Foam Ear Pads, Durable Aluminum Frame, Detachable Microphone, Works with PC, PS5, PS4, Xbox Series X|S, Xbox One Red
15-25kKhz Frequency Response.Headphones fit type:Over-Ear.Note : If the size of the earbud tips does not match the size of your ear canals or the headset is not worn properly in your ears, you may not obtain the correct sound qualities or call performance. Change the earbud tips to ones that fit more snugly in your ear
Designed for comfort: Exceptionally comfortable memory foam ear cushions and padded leatherette headband help keep you focused on gaming
Supreme audio quality: Large 53 millimeter drivers provide high-quality audio. Hear in-game details better and get the in-game advantage on your opponents
7.1 virtual surround sound: Truly immerse yourself in your games with hardware-driven virtual 7.1 surround sound for precisely located audio
Passive noise cancellation: The closed ear cup design blocks out outside distractions to keep you in the game
Last update on 2023-07-23 / Affiliate links / Images from Amazon Product Advertising API
2. SteelSeries Arctis 7 Wireless Headset
The SteelSeries Arctis 7 Wireless Headset is one of the best options you have for a gaming headset under 150. The aesthetics are very nice.
Advantages
Comfortable even with reading glasses on.
Doesn't cause discomfort after hours of playing
Charge time lasts over 24 hours, you legit don't have to charge this bad boy, even when you do, it only takes 3 hours max
Mic sounds amazingly clear
Wireless connection is superb with zero latency
Great sound that you can tweak with the software
Disadvantage
Base EQ settings are not very good so they should make it known in the directions to absolutely change them and how to
The knobs for volume adjustments are very easy to turn thus producing accidental volume adjustments
Sale
SteelSeries Arctis 7 - Lossless Wireless Gaming Headset with DTS Headphone: X v2.0 Surround - for PC and PlayStation 4 - Black
Designed for gaming, the 2.4 grams connection delivers rock solid, lossless wireless audio with ultra-low latency and zero interference
Widely recognized as the best mic in gaming, the discord certified clear cast microphone delivers studio quality voice clarity and background noise cancellation
Sound is your competitive advantage with the s1 speaker drivers, engineered to produce ultra-low distortion audio so you hear every detail Effective Range: 12m / 40ft
Immerse yourself in 360 degrees of precision audio with next generation DTS headphone: x v2.0 7.1 surround sound (pc only)
24 hour battery life gives you enough continuous play for even your longest gaming sessions; Compatible only with Pc, Mac, PS, Switch and Mobile; Headphone sensitivity: 98dB
Last update on 2023-07-23 / Affiliate links / Images from Amazon Product Advertising API
3. Sony PlayStation Platinum Wireless
The Sony PlayStation Platinum Wireless is a wireless headset made by, yes you guessed it right, it's Sony. It is very stylish, sleek and gives an amazing feeling. This headset is wireless that means no problem of wire, it has 3D audio and it also gives 7.1 virtual surround sound, which delivers very detailed and rich crisp sound.
Advantages
It comes with 50mm drivers which provides amazing clarity, it has also two advanced built-in mics, that brilliantly captures your voice, and cancels distracting noise, it is very comfortable to the ears making it possible to use for long duration, it also provides a battery backup of 6 hours, you can also have exclusive audio modes as it comes with Companion app in PlayStation Store.
Disadvantages
Best gaming headsets under 150: But it still has its flaws such as unreliable wireless features, insubstantial preset options, the app is nothing much, but it is still one of the best gaming headsets for PS4.
Sale
PlayStation Platinum Wireless Headset - PlayStation 4
7.1 Virtual Surround Sound: Experience rich, highly positional virtual surround sound powered by revolutionary 3D audio technology
3D Audio: In select PS4 games that fully support 3D audio, hear and feel an amazingly rich audio experience with surround sound emanating from all directions, including above and below you
Multi-device Compatibility: Connect wirelessly to your PS4 and personal computer. Connect to a PlayStation VR headset or mobile device with the included 3.5mm audio cable
Exclusive Audio Modes:Download the companion app from PlayStation Store to tune your headset with audio modes created by developers to bring out every subtle nuance in their game
Audience Rating: Unrated (Not Rated)
Last update on 2023-07-23 / Affiliate links / Images from Amazon Product Advertising API